This shop has been compensated by Collective Bias, Inc. and its advertiser. All opinions are mine alone. #LEMLoveToProcess #CollectiveBias
How to Save Money on Your Meat Bill
One of the areas that takes most of a grocery budget is purchasing meat. Since we don't have any plans to give up meat anytime soon, I knew that I had to figure out ways to save money on fundamental part of our meals. One of the ways we liked to stock up was when my husband would have a successful hunting trip. However, the cost of processing the animal took away from the savings when stocking up my freezer. A few years ago, my husband went hunting with friends and they showed him how to process his own deer. The amount of time it took was minimal compared to the savings. This inspired me to discover how I could save money on our other meat purchases by processing your own meat. Check out my simple tips below and decrease the portion of your grocery budget spent on meat.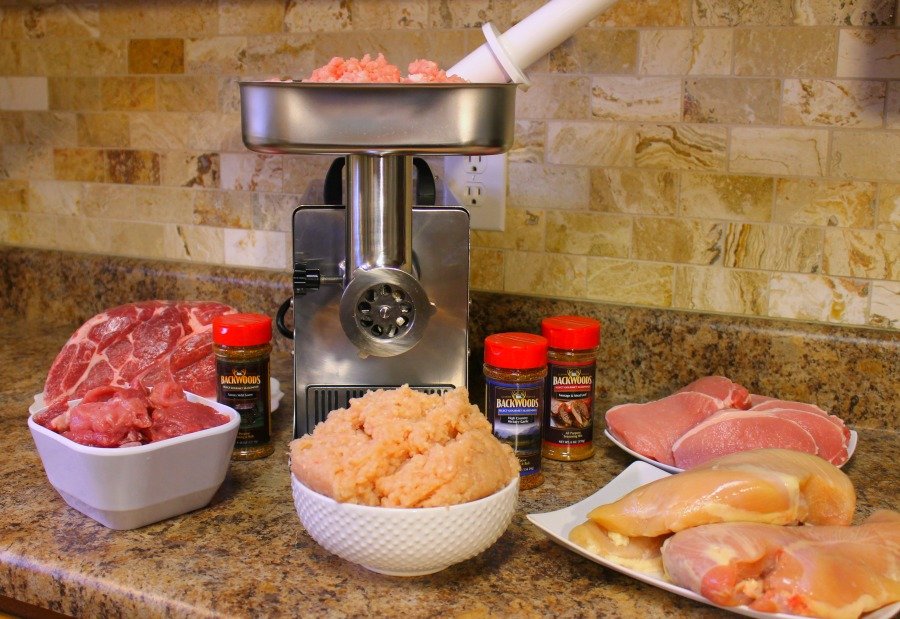 Want to process your own meat at home? Hover over the photo to click through to LEM Products to purchase the Big Bite Grinder & other fine products!
Save Money on your Meat Bill
Purchase Meat in Bulk – Many stores offer discount pricing for buying large quantities of meat. Family packs are also usually cheaper than smaller packages. This costs a little more up front but will last longer so you save money in the long term.
Shop Sales – Watch your local grocery store ads for sale prices. You will notice a trend in how often they throw different products on sale. Make sure to stock up when prices are at their lowest. With savings sometimes almost $2 a pound, it is even worth visiting multiple stores to take advantage of savings.
Break Down Products Yourself – A whole pork loin is a fraction of the cost compared to already sliced pork chops. Purchase the whole loin and slice it yourself into chops, a pork roast, and put some aside for ground pork. You can also break down your own chicken to take advantage of savings.
Grind Your Own Meat – This is my new favorite way to save because we use ground meat the most in our meals. From venison to pork, I can easily grind up my mealtime staple with the Big Bite® Grinder from LEM™ Products. (Learn more about this great product below.)
Make Your Own Sausage – This is easy to do once you have your ground meat. By adding a mixture of spices and seasonings you can turn your ground meat into the perfect sausage blend. Purchase the casing of your choice, and fill them with the meat blend. The Big Bite® Grinder also lets me stuff sausages easily and quickly.
I have been doing many of these steps for a few years but recently started using the Big Bite® Grinder by LEM™ Products. It has changed the way I stock up my freezer. My family uses a lot of ground meat and with the Big Bite® Grinder, I can turn cheaper cuts into delicious ground meat. It is easy to use thanks to the auger that was create to pull meat through vs. having to push it through. The outside is made of Stainless Steel and uses an induction motor for reliable performance. The grinder has "Big Bite"technology which allows you grind larger pieces of meat which means you can save time when cutting up the meat for processing. The larger pieces move easily through the grinder and do not clog the machine. This auger also allows you to stuff sausage casings with the simple switch from a grinder plate to the stuffing plate.Thanks to the "Big Bite Grinder" technology stomping is eliminated and the sausage stuffing function is improved. LEM is a family owned company that is passionate about game processing and offer a 5 year warranty on products.
Besides their quality meat processing products, LEM also offers a full line of seasonings, meat casings and other products that help you accomplish delicious finished products when processing your own meat.
The online ordering process is simple to find all the products you need from grinders to accessories.
These tips are perfect for any meat you purchase at the grocery and also apply for any meat you may get when hunting. By processing your own meat you are able to save money on your meat bill and put money back in your grocery budget for other necessities.
Learn more about the products offered by LEM Products by visiting them online.
Website | Facebook | Instagram | Pinterest | YouTube