Disclosure: This shop has been compensated by Collective Bias, Inc. and its advertiser. All opinions are mine alone. #CueTheNewYear #CueVapor #SatisfactionAtLast #CollectiveBias
This post is intended for an audience of adults age 18 and older.
Organize Your Gadgets & Create an Easy Charging Station
With the New Year comes resolutions and one of my resolutions has been to tackle the areas of clutter in our home. One of the most cluttered areas is my husband's night stand in our bedroom. He has so much stuff that it has overflown into a box that sits beside the night stand. This clutter not only causes stress every time we walk in the room but it makes it hard for him to find the things he needs. This includes keeping track of his Cue™ Vapor System and charger cords. To start on my New Year's resolution, we took time over the weekend to tackle his nightstand and create an easy charging system. It took less than an hour to complete the whole process and the result was an organized nightstand with a designated area for his Cue Vapor when it is not in use. See how easy it is to make your own charging station below.
My husband has been using the Cue Vapor System since the summer when he discovered how easy it was to use compared to other vaping systems. The Cue Vapor System includes a patented device and a pre-filled, disposable cartridge. You can also sign up for their subscription program and save 15% on cartridges! That's all you need for the simplest premium vapor experience. The carefully-crafted Cue Vapor System provides vape-shop performance without the complexity. When one cartridge is finished, you only need to slide it out and click a new one into place and you are ready to start vaping again.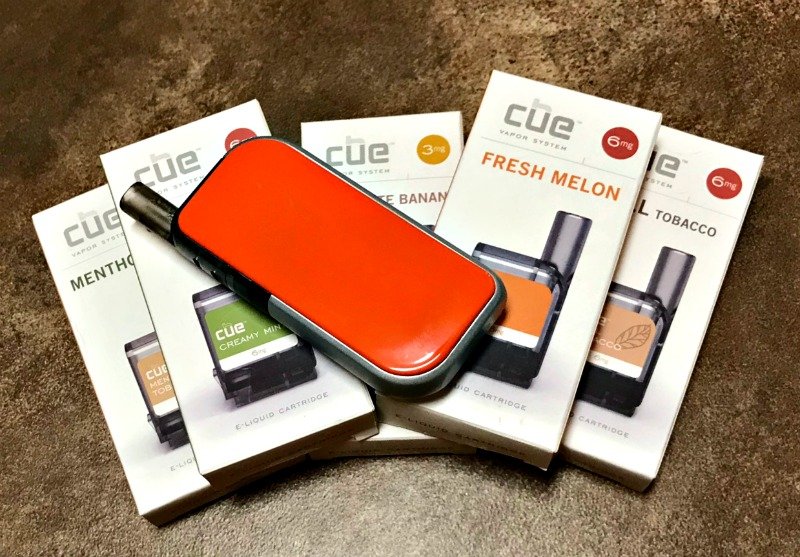 The Cue Vapor cartridges are available in 13 flavors including chocolate banana, blueberry donut (limited edition), and apple tobacco. Each flavor is available in three nicotine levels (0 mg, 3 mg, and 6 mg) so you can truly customize your vaping experience. With so many options it is no wonder that the Cue Vapor is his vaping system of choice. Since we don't have to take any smoke breaks we are able to keep working on our "To Do" list without any lost time. Discover all that the Cue Vapor System has to offer by visiting them online and get busy taking back your gadget clutter with our easy DIY charging station.
How to Create a Charging Station
Select a decorative box that fits on your nightstand or desk without taking up to much space. You can also reuse an shoe box, card box, or small shipping box and cover it with scrapbook paper or paint to match the colors in the room.

Using a drill, put a whole through the back of the box. Make sure it is large enough for several charging cords to fit through. If you don't have a drill, you can use a craft knife to cut out the whole.

Use cardboard pieces to create dividers in the box to create individual areas. Measure out the pieces and then cover in scrapbook paper that matches the color of your box.

Cut holes in the dividers to allow the charging cords to go through. Place your devices in the box to determine the best place for the holes.
Slide the cardboard pieces into the box and superglue into place so they don't slide.
Slide charging cords through the holes and plug into charging strip.
Place devices in the designated areas and use extra space to store your wallet, keys, etc.
Once you have your charging station created, you will want to make sure to de-clutter the area you are organizing. The easiest way is to remove all the items and sort through them. Separate your items into three piles (Trash, Donate, Keep.) Sort through the items placing them in one of the three piles. When you are done place the items you are keeping back into the drawers and/or your charging station. Check out our before and after pictures below to see the difference a little decluttering can make.
The Cue Vapor System can be purchased online and is available at select stores.
For more information you can follow along online.
Official Website | Facebook | Twitter
NOT FOR SALE TO MINORS. California Proposition Warning statement: "WARNING: This product can expose you to chemicals including nicotine, which is known to the State of California to cause birth defects or other reproductive harm. For more information, go to www.P65.com. WARNING: This product contains nicotine. Nicotine is an addictive chemical. Cue™ the Cue Logo and Vaping. Made Simple.™ are trademarks of Digirettes, Inc.